Good for Nothing is an adventurous romp following an odd romance set in the sweeping Old West. An epic independent feat written and directed by first-time director Mike Wallis it celebrates the Western genre with an interesting twist.
Inspired by the Spaghetti Westerns this highly original classic style Western is included in Leonard Maltin's 'Fifty Notable Debut Features of the Past Twenty Years' list from his The New York Times bestseller – 'Leonard Maltin's Movie Guide 2013 Edition'.
After sold out screenings at the Santa Barbara International Film Festival The Hollywood Reporter praised Mike's work in Good for Nothing: 'Imagine a Kiwi Spaghetti Western filtered through the offbeat sensibilities of early Sam Raimi or the Coen brothers'.
Good for Nothing is Wallis's directorial debut following nine years at Peter Jackson's Weta Digital in a production role in the Animation Department. Having worked on films like the Lord of the Rings Trilogy, King Kong, Steven Spielberg's Tintin, and James Cameron's Avatar.
With his fianc , actress Inge Rademeyer, they decided against the 'sensible' decision to buy a house, choosing to self-fund and produce a movie instead.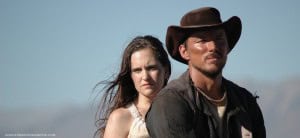 A first cut of Good for Nothing drew attention from Academy Award winner Jamie Selkirk, who funded the film's post-production. Acclaimed composer John Psathas (known for composing the opening and closing ceremonies' music for the Athens 2004 Olympics) came on board to compose his first film score – fantastically performed by the New Zealand Symphony Orchestra.
'The Man' is played by award-winning Kiwi star Cohen Holloway (Boy, Eagle vs Shark, Until Proven Innocent) – recipient of the New Zealand Qantas Film and Television Award for Best Actor 2010.
Holloway is joined by co-star Inge Rademeyer a South African born, New Zealand raised actress in her break-out feature role as 'Isabella' and introduced as 'a lovely newcomer' by The Hollywood Reporter as well as nominated for Best Actress at the New Zealand Film Awards 2012.
Good for Nothing is an entertaining and ironic look into the emotional confusion of an outlaw with strong unfamiliar feelings towards a woman who he has kidnapped! These feelings are revealed when The Man (Cohen Holloway) tries to force himself on the young and beautiful Isabella Montgomery (Inge Rademeyer) but finds himself unable to perform due to a healthy dose of erectile dysfunction.
This deadpan Western has a fantastic collection of characters including a wild and unpredictable posse that are hot on the trail of the The Man and Isabella after mistaking Isabella for a whore and accomplice to the murdering outlaw.
Five years in the making, with a large helping hand from friends and family (and a serious delay in the wedding) Wallis and Rademeyer have successfully emerged with their debut – a feature film that had a theatrical release in North America in 2012 (it's considered New Zealand's first self funded feature film to achieve a theatrical release in the US) followed by releases in other territories around the world.
"Ravishing" – The New York Times
"New Zealand parody with a tone so deadpan it becomes laugh-out-loud funny…The result is a winning balance of humor and pluck." – Variety
"…an original, well-acted and good-looking film. I wish Americans remembered how to make Westerns like this." – Leonard Maltin
Recommended Links: