First-time Director Mike Wallis began his career in a video store in Queenstown, New Zealand. At age 21 and determined to make films he moved to Wellington and made his first short film starring Bret McKenzie (Flight of the Conchords).
At the time Miramar, a Wellington suburb, was starting to expand with production on Peter Jackson's Lord of the Rings trilogy and Wallis got a job as a runner. He moved up quickly through the ranks and was recognised by those in charge for his cheeky determination and good humour.
He found a niche in the Animation and Motion Capture departments at the visual effects house Weta Digital, eventually becoming the Animation Manager. This position allowed him incredible access to learning opportunities and experiences across the spectrum of moviemaking – and he was able to watch the world's top directors develop and craft their stories at the highest level.
This uniquely privileged situation (watching Peter Jackson work on LOTR or King Kong, James Cameron on Avatar or Steven Spielberg on Tintin), as well as a variety of other directors inspired Wallis to develop his own ideas and style for his own movies. At night after working full days he would tirelessly develop, write and re-write his own screenplays.
In 2005, after both he and his fiancé were feeling they were on the wrong path after attempting to buy a house, they made the decision to pursue their passion – choosing instead to self-fund and produce a movie and bring Good for Nothing to life.
After an intense shoot striving for a high quality film on an extremely tight budget, Wallis eventually resigned from his job at Weta Digital to work full time on Good for Nothing and complete post-production.
Since the theatrical release of Good for Nothing in the United States the film along with Wallis has been included in Leonard Maltin's 'Fifty Notable Debut Features of the Past Twenty Years' list in his The New York Times bestseller – 'Leonard Maltin's Movie Guide 2013 Edition'.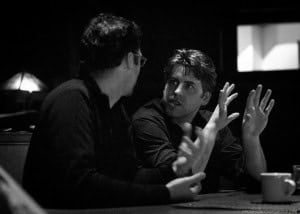 "…a promising frontier for Mr. Wallis." – The New York Times
"Wallis' final product ultimately finds a balance among drama, humor, romance and adventure… Good for Nothing proves that, in the right hands, Kiwis can make Westerns too." – Moving Pictures Magazine
"Imagine a Kiwi Spaghetti Western filtered through the offbeat sensibilities of early Sam Raimi or the Coen brothers." – The Hollywood Reporter
"…Mike Wallis makes me a believer…" – Ain't It Cool News