"Beauty and the Beast meets Sergio Leone in this amusing Western import"' The Hollywood Reporter
On one of their first holidays together, Mike Wallis took his fianc Inge Rademeyer to the South Island of New Zealand, to show her his heritage and the land on which he grew up. He revealed he had long yearned to make a Kiwi version of a 'Spaghetti Western'.
Later, the pair reminisced to that conversation when faced with the decision whether to buy a house. Deciding against the 'sensible' decision, the couple then spent the next five years making the dream a reality, pouring everything they had into self-funding and producing their first feature film, Good for Nothing.
'We drove away from an attempt at buying a house and found ourselves relieved and realised that neither of us really wanted to buy a house ' what we really wanted to do was to make movies', smiles Wallis.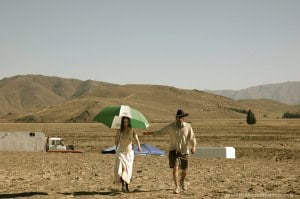 'When we started on this journey we had no idea where we would end up ' all we knew was that it was what we wanted to do and that we had to give it a shot and we were willing to put everything we had into the film to make it happen. Even if we ended up out on the street we had each other and enough time to make it all back. We decided to give it a shot.'
Quitting your job to realize your lifelong ambition is a lovely thought in theory, but in practice, self funding your own film meant for the first few years, Rademeyer and Wallis needed to hold down two jobs ' by day, full time jobs at Academy Award winning visual effects studio Weta Digital and by night, fastidiously writing, planning and scripting Good for Nothing.
Inspired by working on projects with the world's finest films and directors at Weta Digital Dunedin born Mike Wallis resigned from his job after 9 years to complete post production on the feature film whilst Rademeyer continued at her job at Weta Digital to pay the bills.
'The job at Weta gave me a great overview of the whole spectrum of filmmaking', says Wallis. 'It taught me a lot about crafting a story and creating a scene. I was surrounded by people in the business, but inside I was yearning to do my own thing. I had to ask myself what I was really passionate about ' I spent a lot of time thinking about the stories inside my head.'
On reflection, both Rademeyer and Wallis agree they'd do it again in a heartbeat. 'Passion, commitment and dedication are the three things that made this happen. We were lucky, we had people who were willing to dream with us – not knowing what the outcome will be but willing to give it a shot.'
As Good for Nothing's Director of Photography Mathew Knight says, 'Mike has created a film with the input of world-class large budget film people working on it. It's completely atypical for a very small low budget feature which shows the strength of his and Inge's determination and vision.'
It wasn't long after completing a first cut of the film that Academy Award-winning Editor Jamie Selkirk saw the cut and offered his support, along with specialists from visual effects house Weta Digital and post-production facility Park Road Post.
The fostering of new talent in the heart of New Zealand's filmmaking community based in Miramar, Wellington, has led to this exciting new feature, riding the wave of a legacy which shows the world that New Zealand can consistently shoot above its station on a global scale.
Good for Nothing's deft and confident filmmaking is matched by a sweeping score from acclaimed classical composer John Psathas which is performed by the New Zealand Symphony Orchestra. The film had its world premiere at the Santa Barbara International Film Festival and Leonard Maltin gave the film a fantastic review which was followed by great reviews from The Hollywood Reporter and Ain't It Cool News.
Overall the festival was a massive success for the film with the 3 scheduled screenings selling out and the festival adding additional screenings to cope with demand and festival director Roger Durling commenting that the film was the talk of the festival and introducing it as a "delicious" film.
After the festival run the film had a theatrical release in North America in 2012 (it's considered New Zealand's first self funded feature film to achieve a theatrical release in the US) followed by releases in other territories around the world.
Since the release Good for Nothing along with Wallis have been included in Leonard Maltin's 'Fifty Notable Debut Features of the Past Twenty Years' list in his The New York Times bestseller – 'Leonard Maltin's Movie Guide 2013 Edition'.