"The Man" (a nod to Clint Eastwood's 'the man with no name' character) is played by award-winning New Zealand movie star Cohen Holloway (Boy, Eagle vs Shark, Until Proven Innocent) – Recipient of the Qantas Film and Television Award for his portrayal of the lead character David Dougherty in Until Proven Innocent.
A natural born entrepreneur actor Cohen Holloway began writing his own content as a way to secure work after finishing drama school. Starting out in the New Zealand comedy circuit, it lead him to collaborate with Taika Cohen (director of Boy) and Flight of the Conchords' Jemaine Clement.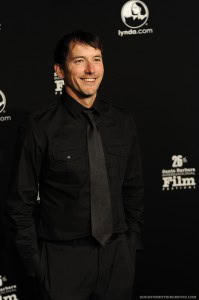 Cohen caught the attention of Good for Nothing director Mike Wallis, who admired his understated performance in Taika Waititi's Eagle vs Shark, and cast him as the male lead.
Cohen Holloway on The Man
Says Cohen of his transition from comedy to drama in film, 'I don't think there's too much of a difference between drama and comedy because you play the truth of the moment and if the writing is clear, and the editing is clever it will succeed.'
It was a little harder however for the self-professed city boy to look comfortable as a rugged Southern Man. 'I lied and said I could ride a horse, shoot a pistol and do all sorts of Cowboy type things', he laughs. 'Eventually I fessed up and was taught how to ride a horse and made to look like I'd be been doing it all my life.'
For Cohen he believed being cast as the lead took a lot of courage and vision from director Mike Wallis. 'It gave me great belief I could do drama and play the leading man. It was a significant step forward to play a dark menacing character that the audience can grow to like. When I was a kid I always wanted to play cowboys. And to be the baddie and the goodie at the same time in this film is a dream come true.'
One thing Cohen particularly liked about the shoot is the time taken by the director to get things right. 'I love that I got to play this Old School. I got to hold the screen and find my own character. There was one point when the Man is cleaning his teeth with a knife and I thought, 'No one's going to like this character!' But the ladies seem to love him. My Dad is a huge Western fan and he's bound to be my biggest critic.'
"Cohen Holloway does a fantastic job…" – Ain't It Cool News
"…star Holloway is a terrific cowboy…" – Variety